One of my favorite features in ExtremeCloud™ IQ that many Extreme customers might not be aware of is Cloud Configuration Groups, a powerful configuration and network device management feature. Cloud Configuration Groups is a form of device classification that adds more flexibility when configuring network policies with ExtremeCloud™ IQ. Cloud Configuration Groups solves the management challenge of implementing template-based network policies for network devices that require different settings.
What exactly does that mean? Cloud Configuration Groups allows IT managers to create a single network policy that can span the entire enterprise network while still keeping management simplified. ExtremeCloud™ IQ can easily scale up to over a million managed network devices for a single enterprise customer network (or partner/managed service provider). Customers often deploy hundreds or even tens of thousands of network devices across multiple locations. A typical enterprise deployment requires unique configuration settings for APs and switches in different locations.
By using Client Configuration Groups together with classification rules, a single network policy can is custom-built for specific groups of devices. For example, different groupings of APs can area assigned different device templates, radio profiles, user VLANS, management VLANS, DNS, RADIUS, and even SSIDs. Administrators can use a global network policy for efficient deployment (and future policy updates), while still enabling per location definitions for configuration items. As shown in Figure 1, Extreme access points, branch routers, and switches are all assigned into different Cloud Configuration Groups.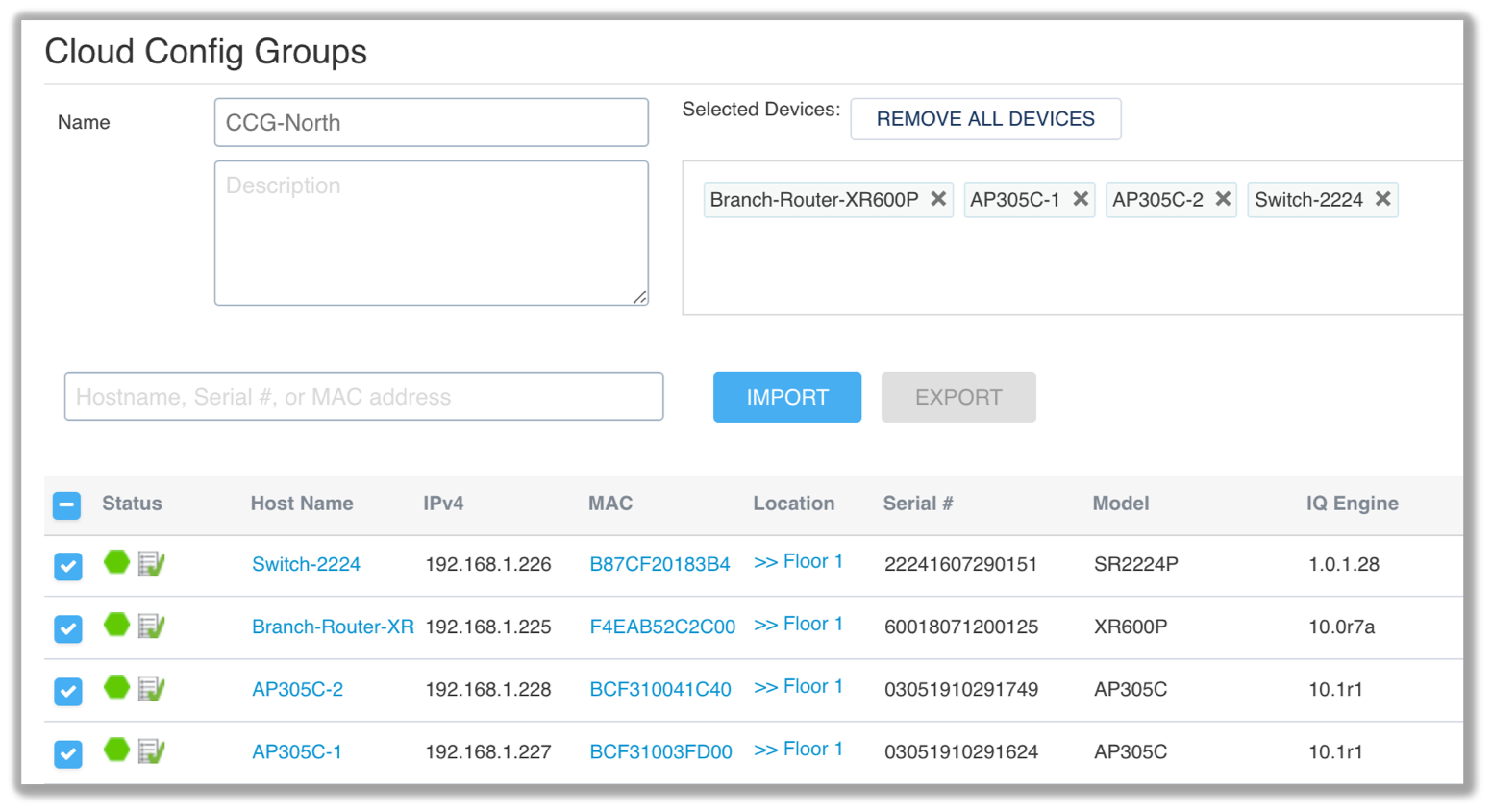 Figure 1
So how does this play out in the real world? Perhaps a quick-service restaurant chain wants to have a single policy that spans their store across the world; however, the company wants to have a unique SSID, specific security settings, and a geo-located captive web portal for each franchisee. Before Cloud Configuration Groups, the IT department would have to create a specific network policy for each group of stores. As shown in Figure 2, an administrator can create a single network policy, but still have the customized experience for each group of restaurants. Restaurant franchise owners can have a specific SSID and a customized captive web portal. Still, the corporate IT department can easily manage all of the devices through a single network policy. The recently announced Extreme Retail Select solution can easily leverage the configuration flexibility of Cloud Configuration Groups offers within ExtremeCloud™ IQ.
Figure 2
Stay tuned for more blogs about cool ExtremeCloud™ IQ configuration and monitoring features.