There are no doubts that retailers, and their brick and mortar stores, are under immense competitive pressure. With the impact of the shift of consumer spending to online, physical stores have experienced slowing growth rates. In response, retailers are scaling back new store expansion, closing stores,  or investing in smaller store formats.
Brick and mortar stores continue to pose considerable value for retail, for their ability to provide unique brand experiences, enable customers to interact with products physically, and seek real-time help from in-store supporting staff.   However, retail stores also have reached a digital crossroad: there's no choice but to innovate and reconfigure traditional business models, and the in-store experience is at the heart of this shift.    
What are the Key Elements Powering Transformation in the Retail Store?
Retailers must be making strategic investments in the following areas to accelerate digital transformation:
Artificial Intelligence
Machine Learning
Business Intelligence
Analytics
Mobility
At present, to power the central aspects of the business, a substantial amount of time in retail is still used for routine, maintenance-level tasks.  This cycle is breaking, with retailers working smarter through automation, to eliminate the administrative functions that serve as a blockade to innovation.
The Power of Automation: Working Smarter and More Efficiently
So what's the method for transporting retailers from slow and manual to innovative and automated?
Extreme Networks secure, scalable, flexible retail networking solutions. It's not time to downsize or close shop. Instead, retailers can implement a network infrastructure that harnesses the power of automation to offload day-to-day routine tasks. With more time, retailers can focus on investing in strategic solutions and positioning them more favorably moving forward.
Here's what the right network solution brings to the table for retailers
Flexible, Scalable Infrastructure to Meet Unique Retail Needs 
The retail network of today needs to be future-proofed while meeting the demands of customers in a digital world.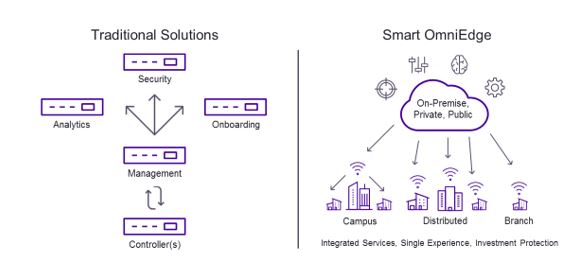 With Extreme and our Smart OmniEdge solution, enterprises can acquire and provision services quickly and easily while ensuring a consistent end-user experience. We're introducing a new model and architecture for networking. By leveraging cloud-infused, software-driven networking technology, we converge premier network services into a single software operating system that can scale to any size enterprise. This level of flexibility and business customization is paramount for retailers today
Like the ease and speed with which you download apps to your smartphone, you'll be able to acquire new networking services quickly and easily at the touch of a button.
As your business needs change, so too will the network.
More Time, Less Budget
A January 2018 IDC survey of large enterprises found strong interest in AI for helping streamline operations.
65% said IT automation is the top use case for AI and machine learning; another 48% said their biggest business objective for using AI is to improve operational efficiencies.
Enterprises will never be able to focus on what truly matters if routine tasks consume a large portion of their employees' time. One of the most challenging and time-consuming tasks that IT operations and support face are the management of the wireless network.
64% of reported network issues are Wi-Fi related, and 23% of Wi-Fi issues report a degradation in performance.
It's critical that retailers use the network strategically to free up time and decrease budget spend. The way to accomplish this is by offloading day-to-day, routine tasks through automation and artificial intelligence.
ExtremeAI for Smart OmniEdge directs cognitive intelligence to the complex task of RF management. By automating all aspects of Wi-Fi RF management, including configuration, dynamic tuning and optimization, load balancing, troubleshooting, diagnosis and correction, the network continuously learns and adapts to the enterprise's Wi-Fi environment, proactively ensuring a best in class experience for mobile users and reducing the maintenance and troubleshooting burden on IT.
Enhanced Business and Customer Security
Network security remains top of mind for all enterprises, retailers included. Despite increased security spend, every day, there are new security attacks, personal data records breached, and corporate reputations tarnished. Modern retailers operating in the digital world need a network with security engrained throughout the fabric.
Extreme Smart OmniEdge strengthens security across wired, wireless, and IoT environments.
Giving Shoppers the Experience They Deserve Via Automation
What retailers have to gain by implementing a fully automated network:
Optimized in-store operations, associates, and assets

Digital in-store experience integrated with the online experience

Achieve a real-time view on shopper and associate behavior on the shop floor, using location-based tracking

Provide store associates with a 360-degree view on historical customer data, product information, and inventory
Would you like to learn more about our purpose-built solutions for retail? Check out the resources below: