So, I have a quick question for all our current ExtremeCloud IQ customers. Have you noticed some new icons in the menu taskbar for your cloud management account in the past few months? As shown in Figure 1, we have recently added new icons for four essential applications into ExtremeCloud IQ.
Figure 1 – Icons for Essentials Applications
The primary purpose of a network management system (NMS) is to provide a central point of management and monitoring for network devices and users. The first generations of NMS solutions were server-based (either hardware appliance or a software solution). As time has passed, network management's evolution progressed, and most modern NMS solutions are cloud-based. The first generation of NMS applications offered as a cloud management solution were monolithic applications that ran in multiple virtual machine (VM) instances in a data center. The current generations of NMS solutions are built on top of a provider platform such as Amazon, Google, or Microsoft. Furthermore, the NMS applications are no longer monolithic, and instead are built on microservices and fully containerized. Obviously, with any good cloud network management system (NMS), you should be able to manage APs, switches, branch routers, VPN gateways, and other network hardware. Even more important, a network admin should have the ability to monitor and assure a quality experience for all wireless and wired users.
In addition to network management, many application services have also been a requirement for more specialized aspects of running an enterprise IT network. For example, your company may have installed an overlay wireless intrusion prevention system (WIPS) solution was installed as a separate component for monitoring Wi-Fi security threats. An overlay location services solution using either Wi-Fi or BLE might be used for asset tracking, presence analytics, or proximity marketing. Almost all companies provide some type of guest access via Wi-Fi, and perhaps your company required an overlay guest management and analytics application. I am fond of saying, "IoT is the new security frontier," and many verticals such as healthcare often require another management application to secure and manage IoT devices.
The point I am making is that these additional application services often require additional management platforms to overlay on top of your existing NMS. In other words, they are not integrated into your cloud-based NMS. Of course, historically, a separate license and elevated cost have also come with these often-essential services. Life would be so much easier if these applications services were just built into a single cloud-based management platform like ExtremeCloud IQ.  Why should you need a separate application for WIPS, Location Services, Guest Management/Analytics, or IoT Security? And what if somehow the cost-of-operation of these application services could also be consolidated?
The term cloudification refers to the conversion and/or migration of data and application programs to make use of cloud computing. At Extreme Networks, we have been very busy with the cloudification of the entire networking product portfolio. And the recent exciting news is that we have added four applications into ExtremeCloud IQ that we view as ESSENTIAL for network management. So please allow me to give you a brief description of each essential cloud applications:
ExtremeLocation Essentials is a resilient and scalable cloud-driven solution, that provides enterprises powerful multitier location services that can scale to thousands of sites. Supporting Wi-Fi and/or BLE technologies, enterprises can monitor workflows and assets, in real-time or historically, to improve their overall operations and efficiency. ExtremeLocation provides granular location accuracy resolution to support diverse industry-specific use cases. A shortlist of the features include:
 

Current and historical location analytics

 

Wi-Fi and BLE

 

Zone and Asset Tracking

 D

well time and presence analytics
Figure 2 – ExtremeLocation Essentials
When I joined Extreme Networks, I was thrilled to be reminded about Extreme AirDefense, the premiere wireless intrusion prevention system (WIPS) of the Wi-Fi industry, for over 16 years. The great news is that we view WIPS security as an essential aspect of your daily network management, which is why we debuted ExtremeAirDefense Essentials within ExtremeCloud IQ early last October.
ExtremeAirDefense Essentials simplifies the protection, monitoring, and compliance of your Wireless LAN networks. Extreme AirDefense continuously safeguards the network from external threats 24x7x365 and notifies IT staff when attacks occur, enabling an immediate response.  A shortlist of the features include:
42+ monitored threats
Global sensor management
Historical timeline review of threats and alarms
Security well beyond basic rogue detection

Figure 3 – ExtremeAirDefense Essentials
ExtremeGuest Essentials provides secure guest onboarding and analytics for distributed organization, as well as enterprise campus deployments. Guest Wi-Fi access is crucial to improving guest, visitor, and shopper experiences in retail, hospitality, and at large event venues. A shortlist of the features include:
Multiple guest onboarding options including self-registration, employee sponsorship, and social login
Integrated splash template builder for custom captive web portals
Access control with a time-based role assignment, rate-limiting, and other restrictions
Deep-dive analytics of guest behavior and traffic

Figure 4 – ExtremeGuest Essentials
ExtremeIOT Essentials is a simple IoT security solution that is designed to protect high risk, wired IoT devices. Through the application of security profiles, it controls IoT device attachment and access to the network. It locks down IoT communications to only what's authorized, blocking everything else. A shortlist of the features include:
Protects high-risk IoT devices & overlay to 3rd party networks
Provides portal & templates to secure devices
Enables floor staff (non-IT) to onboard and move IoT devices
Simplifies IoT onboarding and security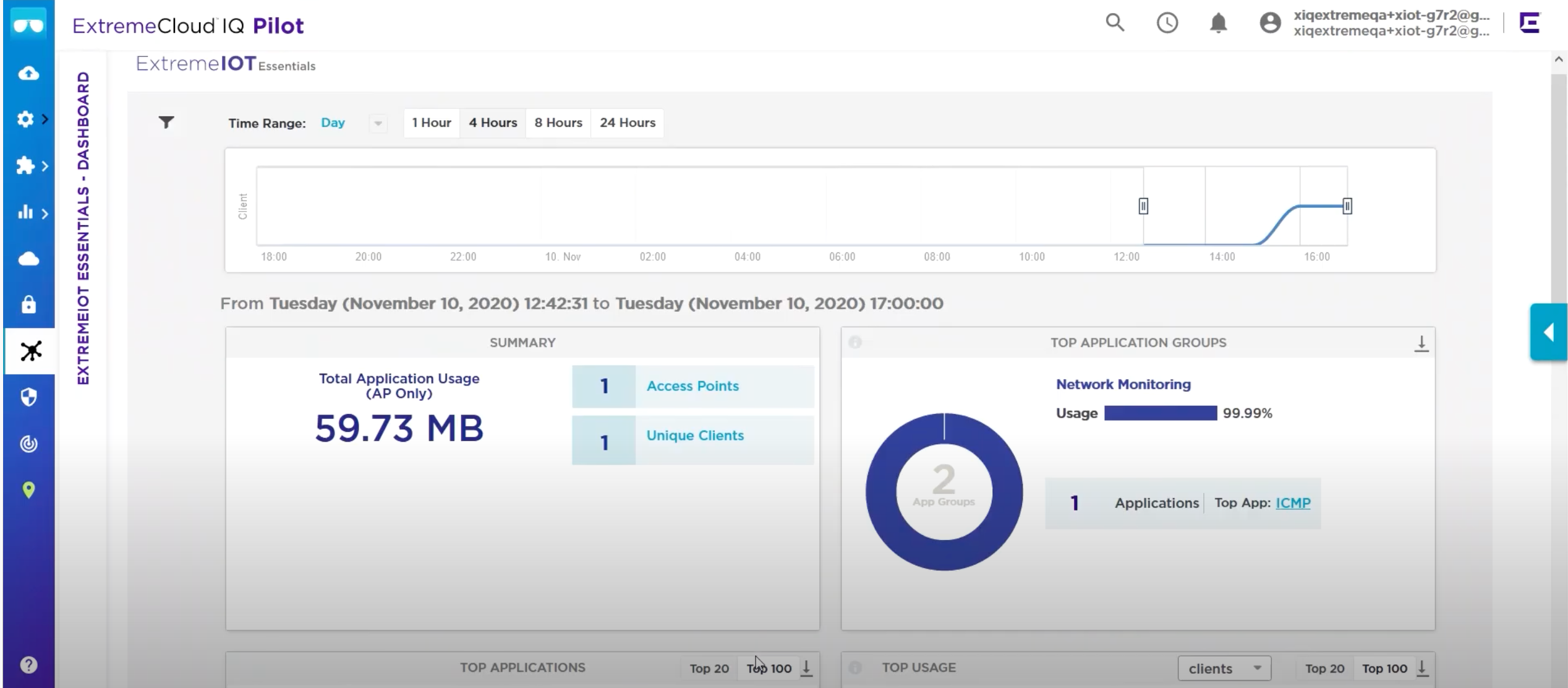 Figure 5 – ExtremeIOT Essentials
As I stated earlier, we view all four of these applications as essential for network management. And now, you have all of these applications integrated within a single management platform – ExtremeCloud IQ. Placing all these applications under the same user interface (UI) umbrella reduces complexity for network administrators.
And what about APIs, you might ask? Competitors often pivot to an API for critical business use cases, which burdens an IT department, and effectively the customer bears all the responsibility. The ExtremeCloud IQ Essentials applications natively deliver your business with valuable services in a simple and elegant fashion. Still, we can provide robust APIs for customers who want integration into third-party systems.
And guess what? I saved the best for last. All four of these applications are included at no extra cost with ExtremeCloud IQ's standard Pilot subscription license. To put it more simply… no additional licensing or costs are required.
If you are a current ExtremeCloud IQ customer, we encourage you to give all four of these essential applications a whirl.  We think you will like what you see, and we promise many more enhancements for all four applications coming soon at cloud-speed. If you are not yet an existing customer, please visit www.extremecloudiq.com and sign-up for a free trial.