Incentive Program Terms and Conditions
ExtremeLive Demo
By participating in this campaign, program Participants agree to the terms and conditions set forth herein, including but not limited to the campaign criteria or rules set forth above.
Program Participants must be at least eighteen (18) years old.
Participants are responsible for all taxes and all fees associated with the acceptance and use of the Reward.
This offer is void where prohibited or restricted by law.
Sponsor and administrator of this promotion is Extreme Networks, Inc., 6480 Via Del Oro, San Jose, CA 95119.
Extreme may determine, in its sole discretion, whether the criteria to participate in the program and earn the reward have been satisfied. Extreme reserves the right to refuse award of program reward in Extreme's sole judgment.
Prospective program Participants may not participate in the promotion if doing so would violate their employer's policies. By participating in this program, the Participant certifies to Extreme (and its third-party agents) that participation does not violate corporate policies of their employer, and that Participant has the consent of their employer to participate.
Participant warrants that its participation in the promotion is fully compliant with all laws, licenses, permits, and approvals required by any applicable government entity, including, without limitation, any anti-bribery, conflict of interest, or procurement laws or regulations of any government or other competent authority where the products are to be sold or used (collectively, "Applicable Laws"). Participant shall indemnify Extreme for any claim that Extreme suffers from third parties, including any governmental authorities, in connection with 's participation in the promotion and Participant's performance of, or failure to perform, all obligations imposed by the Applicable Laws or the promotion.
Extreme Networks reserves the right to modify, withdraw, or cancel the promotion (in whole or in part) at any time and/or in any geography for any reason or for no reason, without prior notice.
Any requests that do not comply with the terms of the promotion will be rejected. The promotion is subject to all local laws and regulations.
Extreme reserves the right to disqualify any Participant (without any liability to the affected Participant) to any future program or promotion, on the grounds that, at Extreme's discretion, Participant violates any Applicable Law or violates these Terms and Conditions.
Additional Terms and Conditions
By entering and participating in this promotion, all Participants agree to release and hold harmless Extreme and its respective subsidiaries, affiliates, suppliers, distributors, partners, representatives, agents, successors, assigns, advertising/promotion agencies and each of their respective parent companies and each such company's officers, directors, employees and agents (collectively, the "Released Parties") from and against any claim or cause of action, including, but not limited to, any liability, tax claim, losses, damages, claims, actions, proceedings, judgments, personal injury, illness, death, or damage to or loss of property that may occur, directly or indirectly, whether caused by negligence or not, from, arising out of, relating to or in connection with: (i) such Participant's participation in this Promotion and/or his/her acceptance, receipt, possession, use, or misuse of any prize or any portion thereof awarded by this Promotion, (ii) technical failures of any kind, including but not limited to the malfunctioning of any computer, cable, network, hardware or software; (iii) the unavailability or inaccessibility of any transmissions or telephone or Internet service; (iv) unauthorized human intervention in any part of the entry process or this Promotion; (v) any use of the winner's name, likeness, photograph, voice, opinions and/or hometown and state; or (vi) electronic or human error which may occur in the administration of this Promotion or the processing of entries.
The Released Parties are not responsible for: (1) any incorrect or inaccurate information; (2) unauthorized human intervention in any part of the entry process or the Promotion; (3) technical or human error that may occur in the administration of the Promotion or the processing of entries; or (4) any injury or damage to persons, including death, or property that may be caused, directly or indirectly, in whole or in part, from Participant's participation in the Promotion or receipt or use or misuse of any prize. If for any reason a Participant's entry is confirmed to have been erroneously lost, or otherwise destroyed or corrupted, Participant's sole remedy is another entry in the Promotion, provided that the Participant can enter prior to the expiration of the Promotion period. If it is not possible to award a submission of another entry due to discontinuance of the Promotion, or any part of it, for any reason, Extreme, at its discretion, may elect to distribute further rewards from among all eligible entries received up to the date prior to the discontinuance or ending of the Promotion for any or all of the prizes offered herein.


Except where prohibited by law, Participants understand and acknowledge that their participation (including the acceptance of any prize) in this Promotion constitutes their unqualified and unconditional permission and consent to Extreme (and its agents') and anyone acting on their behalf (including respective licensees, successors and assigns) the right to use, print, publish, broadcast and/or distribute Participant's name, likeness, entry, photograph, portrait, image voice, likeness, opinions, statements about this Promotion, and/or biographical information such as an Participant's hometown and state for advertising, promotional, public relations and/or trade purposes, without further notice, review, consent or limitation, in any media now known or hereafter in perpetuity on a worldwide basis, without further payment or consideration.


Extreme reserves the right, in its sole discretion, to cancel, suspend, modify and/or terminate these official rules, the Promotion, or any part of it, if any fraud, technical failures (e.g., a virus or bugs), non-authorized human intervention or any other factor beyond Extreme's reasonable control impairs, corrupts or affects the integrity, administration, security, fairness or proper functioning of the Promotion, as determined by Extreme in its sole discretion. Extreme reserves the right in its sole discretion to disqualify any individual it finds to be tampering with the entry process or the operation of the Promotion or to be acting in violation of these official rules or any other promotion or in an unsportsmanlike or disruptive manner. Extreme has the right, in its sole discretion, to maintain the integrity of the Promotion, to void entries for any reason, including, but not limited to; multiple entries from the same user from different IP addresses; multiple entries from the same computer in excess of that allowed by these official rules; or the use of bots, macros or scripts or other technical means for entering. In any such event, Extreme may select the winner from all eligible entries received prior to and/or after (if appropriate) the action taken by Extreme pursuant to this paragraph.
Disputes
As a condition of participating in the promotion, Participant agrees that any and all disputes which cannot be resolved between the parties, and causes of action arising out of or connected with the promotion, shall be resolved individually and Participant hereby irrevocably submits for itself and its property in any legal proceedings relating to the promotion and enforcement of any judgments with respect and in connection thereto, to the exclusive general jurisdiction of the courts of competent jurisdiction located in Santa Clara County, California, U.S., and to the respective appellate courts thereof in connection with any appeal therefrom. Further, in any such dispute, under no circumstances will Participant be permitted to obtain awards for, and hereby waives all rights to claim punitive, incidental, consequential or other damages, including attorneys' fees, other than the fair market value of the units purchased by Participant, and Participant further waives all rights to have damages multiplied or increased and to trial by jury. Under no circumstance will Extreme Networks be liable for any Participant's incidental, consequential, special, punitive, or exemplary damages of any kind, including lost profits, loss of business, or other economic damage arising out of or resulting from Extreme Network's offering, conducting and/or terminating the promotion or for any amount in excess of the market value of the Extreme Networks product(s) purchased by the applicable Participant hereunder.
ALL POTENTIAL WINNERS ARE SUBJECT TO VERIFICATION AND FULL COMPLIANCE WITH THE PROCEDURES AND THE REQUIREMENTS CONTAINED IN THESE OFFICIAL RULES BY EXTREME. AN PARTICIPANT IS NOT A WINNER OF ANY REWARD, UNLESS AND UNTIL PARTICIPANT'S ELIGIBILITY HAS BEEN VERIFIED AND PARTICIPANT HAS BEEN NOTIFIED THAT THE VERIFICATION PROCESS IS COMPLETE AND THE PARTICIPANT HAS CLAIMED HIS/HER REWARD.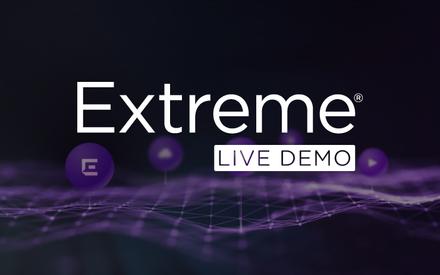 ExtremeLive Demo
Join us for one of our ExtremeLive demo sessions to learn about the benefits of cloud-driven network management and understand the business benefits of detailed network data analytics.
Register Now