Extreme is committed to ensuring our corporate responsibility (CR) efforts resonate across our entire business, from the supply chain partners we select to the customers we serve. More than 50,000 organizations around the world, including half of the Fortune 50, rely on Extreme for the networking services and solutions they need to scale and advance their digital transformation efforts.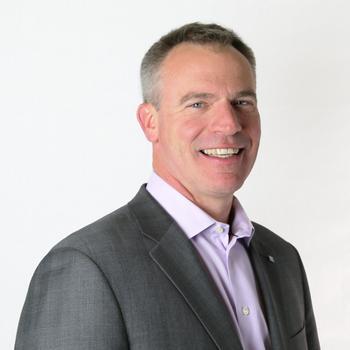 At Extreme, we are passionate about our people and the environment in which we live and work. Our leaders embrace our company's core values of Candor, Transparency, Curiosity, Teamwork, Ownership, and Inclusion, and encourage the practice of these values across the organization as part of the normal course of doing business. I am proud of our CR leaders at Extreme for driving these efforts, and for our employees and partners for engaging with and embracing our CR mission.
Ed Meyercord President and CEO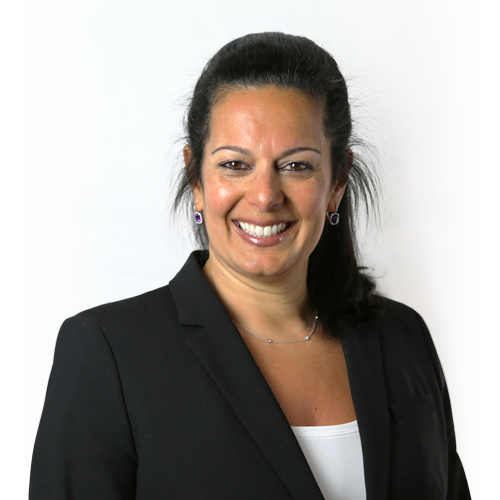 Our world is more reliant on technology than ever before, and as a technology company it is our duty to ensure we are making a positive impact. Extreme has been working to meet our goals for corporate responsibility and sustainable practices, and I could not be more proud of how far we have come."
Katy Motiey Chief Legal, Administrative and Sustainability Officer
Responsible Resource Consumption
This fiscal year, a taskforce that spanned over 10 groups across the company undertook a comprehensive office space and lab consolidation project. Extreme's main data center, comprising over 200 racks of equipment, is being moved from our San Jose office to its new home in Salem, New Hampshire. In making this move, approximately 3,800 assets will be decommissioned as a result of Extreme's lab consolidation.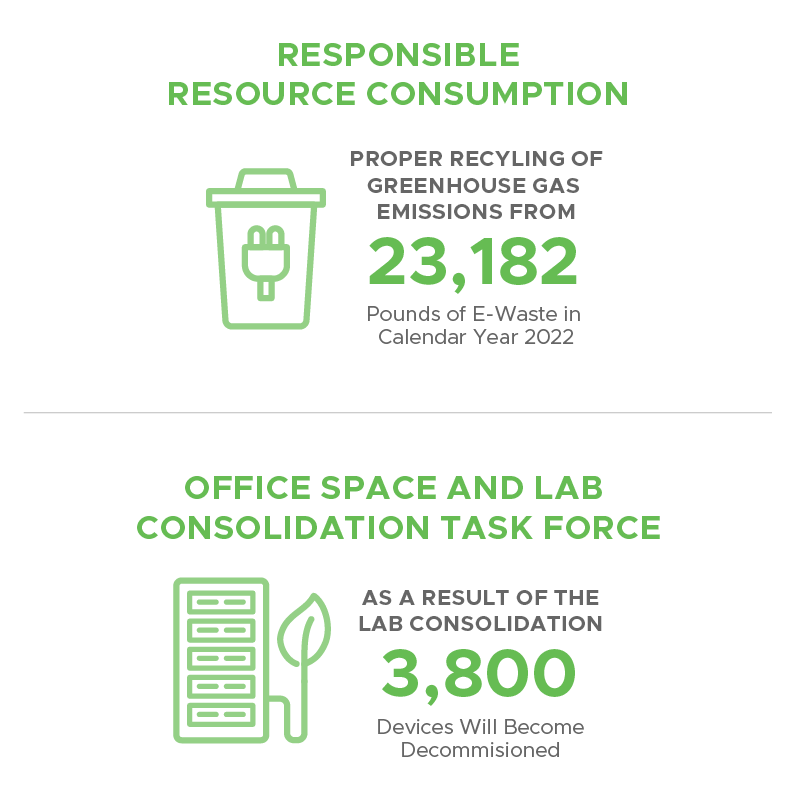 Reducing Emissions
We have reduced our global office footprint by 50% since March 2020. We are well on our way to reaching a 76% total reduction in office space by the end of calendar year 2027, which should result in significantly less greenhouse gas emissions required to power, heat, cool, and light our offices. We are also working to increase energy efficiency in the offices we do have. For example, our headquarters building in Morrisville, North Carolina is LEED-certified for the core and shell. We are using occupancy sensor-driven lighting and low-flow plumbing in many of our corporate offices.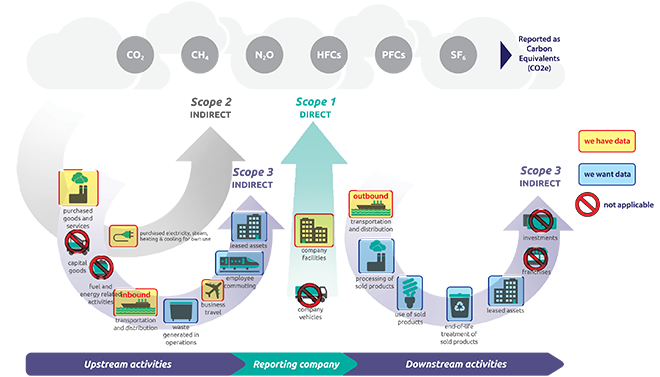 Sustainable Product Management
Extreme is committed to its "Flex First Policy." As a result, fewer than 20% of our employees go to the office 3-4 days per week. By minimizing commuting to and from the office, Extreme employees are reducing greenhouse gas emissions. In fiscal year 2023, we launched a Commute Survey to learn about our employees' commute patterns. Based on the survey responses we collected from employees and data we obtained from tracking employee badge scanning during facility entry, we estimate (on an unaudited basis) that our Flex First Policy has resulted in an annual reduction of 1.5 million miles and 3,500 metric tons of CO2e, an amount roughly equivalent to the carbon generated in manufacturing our products on a yearly basis.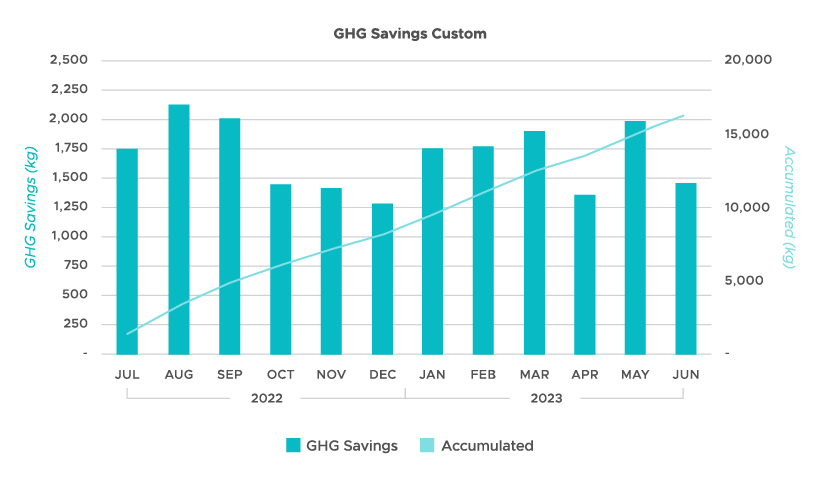 Product Compliance
Extreme's products comply with environmental regulations in global markets where Extreme manufactures and sells products. More specifically, our products are designed to align with our environmental policy. This includes, but is not limited to, global ROHS (Restriction of Hazardous Substances) directives, REACH SVCH (Substances of Very High Concern), WEEE (Waste from Electrical and Electronic Equipment), battery and dangerous goods requirements, and with recycling and recovery in mind. We maintain a close watch over regulations and product changes to ensure continued compliance.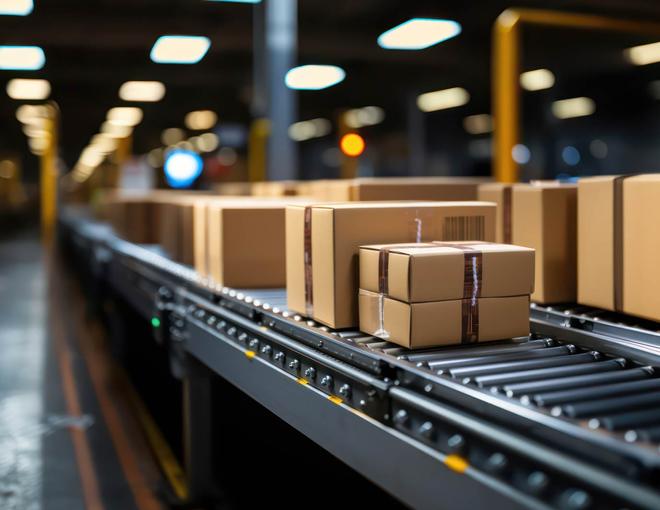 Corporate Responsibility Goals
Goal
Baseline
Timeline
SASB
STANDARD
Status
Ensure 30% of Tier 1 Supply Chain partners by spend have set Science Based Targets*

N/A
End of CY'22
N/A
Complete
Improve power efficiency of new productsby20%

2019
End of CY'23

TC-SI-130a.1

On target
Enable the Circular Economy by:
1) Establishing a baseline and goal for the use of
recycled and recyclable material used in the manufacturing of Extreme's products
2) Establishing a baseline and goal for obsolete product that is reused/refurbished/recycled and identify improvement plans.

N/A
End of CY'22

N/A
On target

*Science Based Targets are targets to achieve a worldwide standard of 50% reduction in GHG by 2030

Goal
Baseline
Timeline
SASB
STANDARD
Status
Reduce our carbon-based footprint by 50% in 2030 (Scope 1, 2, and 3) in accordance with Science Based Targets[1].
2019
End of CY'30

N/A
On target
Reduce Scope 1, 2, and 3 GHG emissions by 12%.
2019

End of CY'22

N/A
In process
Reduce Scope 1 GHG emissions by 25%.
2020
End of CY'25
N/A
On target

Scope 1: direct emissions from owned or controlled sources
Scope 2: indirect emissions from generation of purchased electricity, steam, heating and cooling consumed by the reporting company
Scope 3: all other indirect emissions that occur in a company's value chain
[1] Science Based Targets are targets to achieve a worldwide standard of 50% reduction in GHG by 2030

Goal
Baseline
Timeline
SASB
STANDARD
Status
Maintain best in class employee turnover of less than 14%

11% Voluntary

End of CY'25

N/A
On target

Goal
Baseline
Timeliine
SASB
STANDARD
Status
Increase % of women to 28% by 2025 and 35% by 2030

18%

End of CY'25

TC-SI-330a.3
On target
Increase representation in US of African American/Black to 6% and Hispanic employees to 7% by the end of 2025
Black – 3.1%
Latino – 4.2%

End of CY'25

TC-SI-330a.3
On target
Increase % of women in executive leadership to 30% by end of 2023

15%

End of CY'23

TC-SI-330a.3
On target
Increase DEI Manager Training participation to 95%

80%

Annually

N/A
On target

Goal
Baseline
Timeline
SASB
STANDARD
Status
SOC2 for ExtremeCloud IQ
End of CY'22

TC-SI-230a.2
Complete

Goal
Baseline
Timeline
SASB
STANDARD
Status
Annual Day of Service

Held first global Day of Giving May 2021

Annual

N/A
Held second annual
Day of Giving
May 10, 2022
Add Volunteer TimeOff (VTO) days as part of employee benefit package

N/A
End of CY'23

N/A
In process
Institute employee recognition program for volunteerism

N/A
End of CY'23

N/A
In process
Connect with Extreme Networks