Extreme Intuitive Insights
See how Extreme Intuitive Insights proactively delivers operational insights and business continuity for our customers.
Cloud-Based Application for 360-degree Client to Network Visibility
Improved Business Continuity
IT admins can ensure business continuity by identifying and addressing connectivity, device, or application issues proactively, users can be more effective with fewer interruptions to their workflows.
Proactive Device Lifecycle Management
Delivering proactive lifecycle and performance management together in one application enables IT administrators to scale across any number of sites, anywhere, any time.
Reduced Time to Remediation
Finger pointing and guesswork during troubleshooting leads to delays in production. By isolating issues rapidly, resolution time can be decreased from weeks to minutes.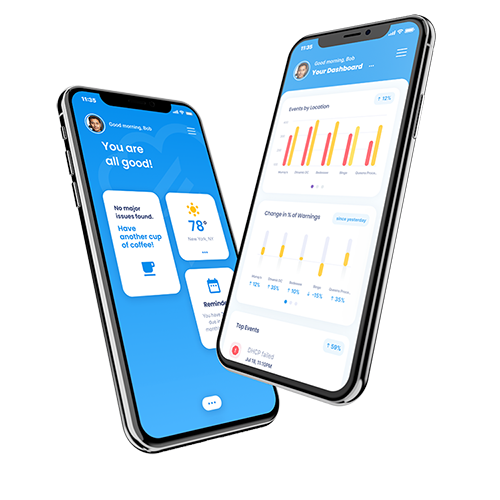 Benefits of combined Power of Extreme Intuitive Insight
Extreme Intuitive Insights Feature List
Customers can use Extreme Intuitive Insights with both Extreme and third-party network infrastructure. When connected to Extreme infrastructure, customers can take advantage of additional features, as shown below.
Feature
Device connected to Extreme infrastructure
Device connected to third party infrastructure
Additional information
Dashboard
Yes
Yes
Device onboarding
Yes
Yes
Can onboard single or bulk upload
Notifications
Yes
Yes
Geofencing
Yes
Yes
Basic device details
Yes
Yes
Includes: device name/hostname, status, version, uptime, IP/MAC addresses, disc space and some more
Location assignment
Yes
Yes
Personalization
Yes
Yes
Network admin and IT Director for 2.0
Number of Online/Offline devices
Yes
Yes
Signal strength from device perspective

Yes
No
Roam indication by AP names
Yes
No
For non-Extreme Infrastructure, roam indication can only be done by Basic Service Set Identifier (BSSID)
Status and events
Yes
Yes
Info provided by Zebra API
HTTP Get widget

Yes
Yes
Usage
Yes
No
Available from ExtremeCloud IQ
Detailed Client trail
Yes
No
Available from ExtremeCloud IQ
Ordering Info
Part Number
Product Name
Product Description
XII-IOT-S-10-EW
Intuitive Insights
Extreme 10 devices per year license enables device level insights into cloud for enhanced visibility and issue resolution - Extreme Works
As the world becomes more mobile and dispersed - network reliability, visibility and analytics are critical for IT teams to effectively manage what can be upwards of hundreds of thousands of devices across a network. In fact, anything short of real-time visibility poses a significant business risk. We're proud to work with our partners to create a joint solution that eliminates the uncertainty of network and device performance and effectively reduces the risk of services outages by more than 90 percent.