Ranked #2 with the largest increase in market share overall in annual research results 
Omdia is a new global technology research powerhouse, established in 2019 with the combination of the Informa Tech's research brands (Ovum, Heavy Reading, and Tractica) and the acquired IHS Markit technology research portfolio. 
The newest Omdia report, published on July 31, 2020, underlines the importance of a cloud-driven networking model and has examined the cloud-managed networking market for CY19 worth $2.6bn (Figure 1), which grew nine times faster than the traditional networking market over the past year. 
The report provides a quantitative analysis of 14 networking vendors and Extreme Networks ranked second overall for taking 10% of market share in CY19.  
Omdia notes, "Extreme's management model is flexible, and companies can migrate from an on-premises installation to a public cloud subscription or even an off-premises private cloud, depending on evolving needs."  
Figure 1: Cloud-managed networking forecast by segment 
Cloud management is no longer just a Wi-Fi story. Extreme Networks has fully embraced the new effortless networking experiences and is best positioned to cloud-manage their wireless and wired product portfolio. 
Even with COVID-19, healthy growth ahead for cloud-managed networking 

Cloud‐managed networking revenue grew 29% in CY19, and Omdia expects annual growth through CY24 to average 23%. Growth will decelerate in CY20 because of the pandemic‐induced worldwide recession but still clock in at a healthy 17% as SaaS subscription revenue makes up for weakness in equipment sales. Omdia forecasts growth to pick up again in CY21 as we enter a post‐COVID world and expects revenue to reach $7.3 billion by CY24, a five‐year CAGR of 23%. 
By CY24 the traditional enterprise networking market (i.e. equipment that is not managed via cloud subscription) will flatline and eventually decline. Any growth in enterprise networking will come purely from cloud-managed equipment at that point.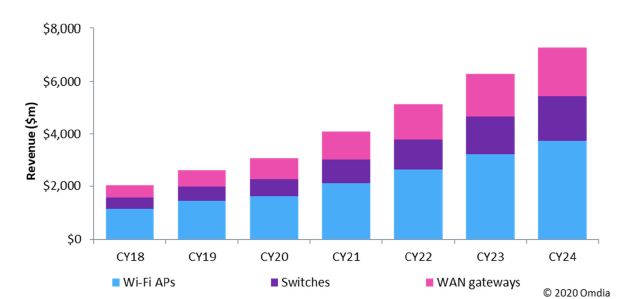 Figure 2: Cloud-managed networking forecast by segment 
Further, Omdia does not expect data center switching, which accounts for about one-quarter of the enterprise networking market, to convert to cloud management at this point as data center buyers use on-premises DC orchestration tools to manage their entire DC IT Stack. Extreme Fabric Automation has the best automation solution that provides ease of use during setup and operations of IP Fabric Networks. 
What is cloud-managed networking? 
Cloud-managed networking is commonly used when referring to the ability to manage Wi-Fi, wired, and SD-WAN network infrastructure as a cloud-based service. This service is typically hosted in the cloud by a 3rd party as a subscription-based purchase model. Extreme Networks is cloudifying its product portfolio – wireless and wired – to enable flexible deployment options for their customers. 
North America accounts for nearly half of all cloud-managed networking revenue, but Omdia expects EMEA to become the dominant region by CY24. Asia Pacific has been slower to adopt cloud services, but mindsets are changing and Omdia expects Asia Pacific to be the fastest-growing region through CY24. 
Figure 3: Cloud-managed networking revenue by geographic region 
Here are some key data points from Omdia's report: 
A total of 7.2 million networking devices are now managed through cloud management platforms 

Approximately three-quarters of cloud-managed networking revenue came from equipment last year, and the remaining quarter came from software as a service (SaaS).  
Cloud-managed networking revenue will grow at a five-year revenue CAGR of 23% to reach more than $7.4 billion by CY24. By comparison, the enterprise network equipment market totaled $48 billion as of CY19, and Omdia forecasts it to grow at a CAGR of 3% over the next five years. The diverging growth rates will drive the share of cloud-managed networking to 13% by CY24.  
For more detailed information, please download Omdia's 2020 Cloud-Managed Networking report now to see how Extreme Networks is positioned in this exciting, new market.  
Omdia notes further on Extreme: "Extreme's management model is flexible, and companies can migrate from an on-premises installation to a public cloud subscription or even an off-premises private cloud, depending on evolving needs. In addition, Extreme is moving to a common set of AP hardware for its various controller and cloud-based management approaches, which will allow customers to reuse hardware if they change management models by changing the AP OS. Finally, Extreme is adding its extensive switching portfolio to ExtremeCloud IQ, which means Extreme will have one of the broader switching portfolios in the cloud management space." 
The fastest path to the autonomous enterprise with effortless networking experiences  
ExtremeCloud IQ is unique in that it's both cloud-hosting agnostic and cloud operating-system agnostic. It utilizes ML and AI to simplify different functions of network infrastructure devices—such as onboarding, configuration, monitoring, managing, troubleshooting, alerting, and reporting. The infusion of AI/ML is critical today for troubleshooting as even the best network engineers can't analyze the massive amounts of data being generated by modern network equipment. AI/ML algorithms can not only analyze the data but also provide the necessary insights to proactively change the network to solve problems before they are business impacting. 
To date, ExtremeCloud IQ manages more than 1.2 million clients, with an average of 13,000 administrator logins daily. The platform also processes more than 4 billion management messages each day, and the collected data feeds its ML/AI engine. 
Businesses can choose from two ExtremeCloud IQ options, depending on their needs. ExtremeCloud IQ Connect is designed for basic device management and is free with any supported hardware platform. ExtremeCloud IQ Pilot builds on all the features of ExtremeCloud IQ Connect and provides advanced infrastructure management, reporting, and ML/AI-driven insights and analytics.  
Extreme Networks has a vision to make cloud-driven networking a reality for all businesses, so they can quickly provision and manage connectivity remotely.  
Extreme recently made available special kits that consist of cloud-managed Wi-Fi 6 solutions that are affordable for hospitals to deploy at remote sites and enable encrypted access to enterprise networks. 
Businesses must be prepared and react quickly to remote connectivity needs in situations like the current COVID-19 outbreak. With more options for cloud-managed networking becoming available, businesses can stay up and running by proactively monitoring the health of their networks. 
Many of the changes driven by COVID-19 are here to stay, and the way networks are managed is one of them. Extreme's portfolio and related cloud management are ideally suited to help companies get through the current pandemic but create a solid foundation for the near future. 
Download Omdia's 2020 Cloud-Managed Networking report now. The press release 'Extreme is the Fastest Growing Vendor in Omdia 2020 Cloud-Managed Networking Report' can be found here.

Additional Resources: