The rapid escalation of COVID-19 patient cases has created new challenges for healthcare organizations to scale up testing and care services, while also reducing risk for non-critical patients or care workers. Healthcare IT professionals are being asked to digitally transform overnight, in supporting remote workers, telemedicine, outdoor triage tents, and a surge in patients and connected devices. Here are five key steps for healthcare IT departments to take in order to accommodate the new demands placed on them.
1. Assess and identify what infrastructure is needed to rapidly support the surge of teleworkers, outdoor sites, and temporary remote facilities
Healthcare organizations around the world are responding to the growing challenges to rapidly respond to this health crisis. It is creating a unique situation in that patient care and hospital operations are being forced to operate outside of the traditional walls of the hospital. IT departments are being asked to evaluate and provide rapid and secure infrastructure solutions for three new operational models.
Teleworker – Many organizations are looking to reduce exposure from person-to-person contact and to prevent hospitals from being overrun. As such, just like so many businesses across the country, many healthcare organizations are looking to transition certain employees to remote work. However, this requires highly reliable communications and connectivity. Health IT teams will need to look at access points and branch routers designed to plug in and securely tunnel traffic back to the hospitals as a means to deliver secure and seamless connectivity for these newly virtual employees.
Onsite Outdoor – Emergency departments, outpatient clinics, and other "1st stop" departments are challenged with limited space and the risk of additional exposure points. As a phase one to limit further spread of disease, major healthcare organizations around the country are setting up testing tents outside facility entries or drive-through testing services to screen patients for COVID-19 symptoms before bringing them into hospitals. For regions experiencing a greater number of exposures, phase two will entail shifting from testing services to initial triage and care in these outdoor sites. This will require wired and wireless network connectivity into the tents to provide everything from medical device connectivity to guest Wi-Fi. Depending on the current wireless coverage, it may be possible to quickly patch in a few additional access points near the tents and wire back into the hospital. For larger setups, a point to point (P2P) bridge is necessary to deliver connectivity and sufficient bandwidth. '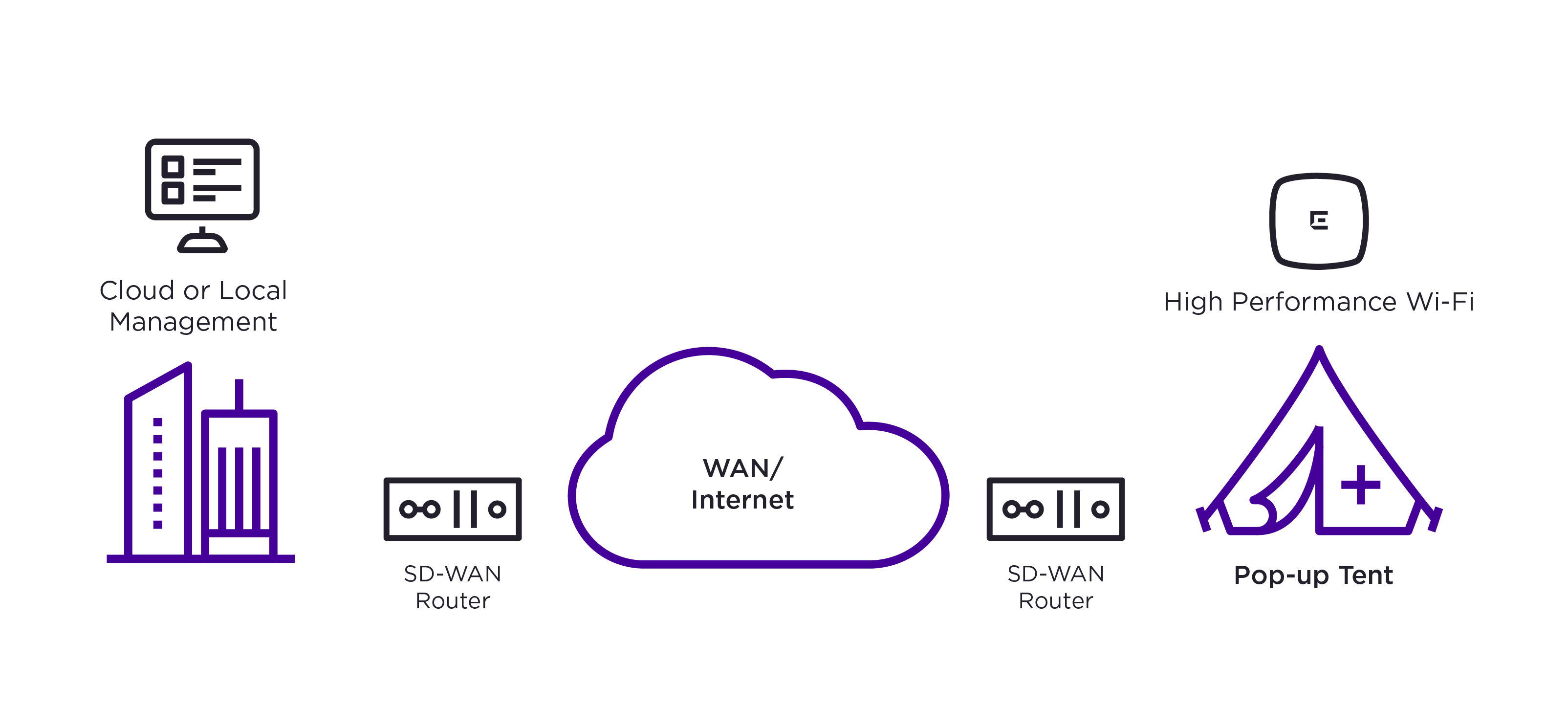 Remote Temporary Facilities – A number of healthcare organizations and national health systems are turning to other locations such as hotels, dorms, schools, or unused retail locations to offer additional care facilities. These locations may or may not have Internet connectivity for supporting care operations. In these situations, a cloud-based branch router can be quickly set up to create a remote extension of the hospital network. For locations that lack Internet connectivity, these branch units often support cellular adapters either via USB or Ethernet. The downside is that bandwidth may be noticeably slower for hospital applications as well as expensive when scaled out across a large number of sites.
2. Check equipment inventories and communicate with vendors
After identifying the intended operational plans, the next step is for health IT teams to investigate what equipment they have on hand. Most organizations have little in the way of additional equipment stocks and supplier inventories are quickly being depleted. Health IT departments will want to work with their vendors as soon as possible to try and prioritize the acquisition of additional equipment as quickly as possible. Based on availability, consider alternative solutions and don't let staff preferences become a delaying factor.
3. Create responsible staffing plans to limit exposure and balance workload
Just like the caregivers who are working incredibly long hours and putting themselves at risk, so are IT staff. It's imperative to create plans to try and limit exposure as much as possible, balance staff loads, and assess skill sets. All non-essential IT projects and activities should be suspended so that all resources are available to focus on the current situation. Additionally, the new deployment scenarios outlined above — teleworkers, outdoor sites, temporary remote facilities — may be new concepts for your staff. Leverage partner and vendor expertise so that support staff can be expanded, and so that you can prevent wasted efforts trying to reinvent the wheel.
4. Communicate IT capabilities to hospital leadership
In stressful times like this, assumptions made about inventory, resources, and capabilities can be very different than reality. We have seen a number of situations arise when large organizations assume equipment is readily available, staff are prepared, and that solutions have been tested to scale. It's critical to communicate (and over-communicate) to hospital leadership the IT department's current capabilities and the anticipated challenges, so that problems can be proactively solved, and risks reduced.
5. Coordinate with the command center
Command center operations are an established process to effectively disseminate large volumes of information coming from the field and setting priorities among various teams. It is critical for IT to be a part of the hospital's command center so that work can be prioritized, issues communicated quickly, and IT services can be delivered as efficiently as possible.  Situations such as this are a marathon, not a sprint, and the organization's requirements from IT will shift as situations change. But keep the communication channels open and eliminate silos.
For information on Extreme's pre-packaged solutions specifically designed to help address the high-demands of COVID-19, view our solution brief: Healthcare Solutions to help address the COVID-19 Pandemic