This industry-veteran loves to learn on and off the clock. He lives by the motto, "You can't wait for something to happen. You can make it happen. Reinvent yourself every year, learn something new so that you can advance and control your future." Appropriately, Rohan oversees the training and sales enablement teams at Extreme with a focus on creating training courses for customers and partners. Recently, he has been focused on expanding free training and certification offerings to universities around the globe through Extreme Academy. See how Rohan advances with us!
What drew you to Extreme?
I was in the networking industry for a long time, but what drew me to Extreme was the opportunity to take a leadership role and drive growth at Extreme.  I've been here three years now, and it feels like a really quick three years. We're nimble and able to adapt, quickly allowing us to capture more market share. We are able to deliver industry-leading solutions to our customers because we challenge the status quo and push the boundaries of technology.
The Extreme team members just jump in, roll-up their sleeves, and get involved – even in areas outside of their comfort zone. Teamwork is really strong here. People work really hard to fill in any gaps and help the company move quicker. Often you can come up with what seems like a crazy idea, and before you know it, we're doing it!
What has been your most memorable memory at Extreme?
Prior to COVID, I split my time between the UK, where I live, and the Salem, NH office in the US. A few years ago, I kept getting stuck in the snow in New Hampshire. We don't get a lot of snow in Southern England, so I was unprepared, to say the least. I didn't have a coat or any warm clothing. I was even falling over in the office parking lot. Seeing that much snow was amusing and completely different for me!
What advice do you have for colleagues or college-grads pursuing a job similar to yours?
Have confidence and trust your gut. If you feel like something is the right thing to do, then do it. You can always ask for feedback from people, but you don't always have to get consensus from everybody. If there's a voice in your head telling you how something should be done, you just need to have the conviction to do what you feel is right.
What do you like to do outside of work?
I'll watch any live sporting event! I'm really happy that live sports are coming back because I love watching the action, especially at the elite level. I also enjoy cycling, so if I have time, I'll get out and pick a route. I live in the countryside, so there are lots of great places to go and cycle. With the pandemic, one positive outcome was the very few cars there were on the road for a couple of months. It was cyclist heaven!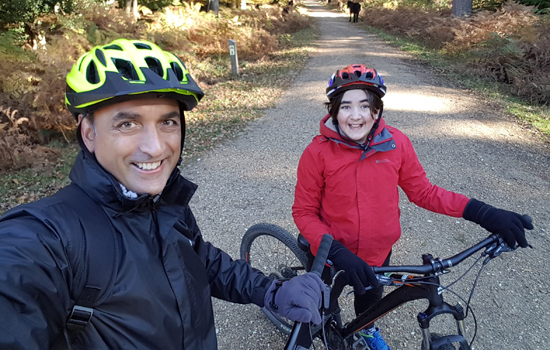 What inspires you?
I love to keep learning! I have such a curious mind, and I like to get into the detail of how stuff works.  With COVID, I've started reading more. I've been embracing my inner geek and started researching different inventors. Right now, I'm reading about Alan Turing, a code breaker during World War II at Bletchley Park. Legendary inventors like him inspire me, especially when they made breakthrough discoveries in such extraordinary circumstances.
What does diversity and inclusion mean to you?
Diversity and inclusion are hugely important to me, and I'm really glad it's getting global attention. If we don't deal with diversity and inclusion, we'll never have equality. We need to care about each other and make sure we're all being treated fairly.  
When we developed Extreme Academy, we wanted to even the playing field by providing more opportunities to educate and inspire the next generation of technologists and prepare them for the workplace. By providing the Extreme Academy free of charge, we are completely removing the barriers to education and advancement. We want to engage groups that are not being treated fairly so they can advance their careers and lives because of it.  We hope Extreme Academy will make a difference in improving diversity and inclusion in the networking industry.
Join Rohan and the rest of the team!
Visit our careers page to explore opportunities in sales and channel programs as well as the many other roles in which you can advance and help Extreme drive effortless networking experiences for enterprises worldwide.