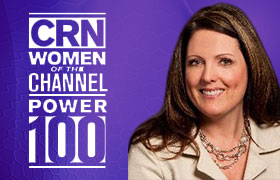 Congratulations to Paige Powers, senior director of worldwide distribution and inside sales at Extreme Networks, for being recognized on CRN's 2016 Women of the Channel and Power 100 list! These annual prestigious lists recognize women executives within the channel ecosystem for their exceptional leadership, vision and unique role in driving channel growth and innovation.
The 2016 Women of the Channel list is comprised of executives across the IT channel, including vendors, distributors, solution providers and other organizations. Paige was included on this list based on her professional accomplishments, expertise and continued dedication to the Extreme Partner Network. Of the frontrunners included in the Women of the Channel list, an exclusive subset of women deemed as channel influencers were chosen to be spotlighted in the Power 100 list. Paige's ability to position Extreme Networks for ongoing success led to her recognition on the Power 100 list as one of the most powerful women leaders across all IT channel organizations.
Paige is an exemplary leader at Extreme Networks and deserves her seat amongst this elite group of channel women executives. She has played an integral role in enhancing the Extreme Partner Network, including the recently launched Wireless Specialization Program, and building out global distribution go-to-market strategies. We value her contributions to the company and her dedication to partners as we move towards new program enhancements in the near future.
I encourage you to check out Paige's Women of the Channel and Power 100 listing here and here on CRN.com.
This will also be featured in the June issue of CRN Magazine. Congratulations again, Paige!