This sales account manager just keeps crushing his quotas! Jarrod was one of our fiscal 2020 President's Club winners and will be going to Florence, Italy on an all-expenses-paid trip with his plus one and fellow winners next year. He came to Extreme through the Aerohive acquisition and has loved every minute of his journey. He's a role model that everyone looks up to with his passionate and positive attitude and natural ability to hype people up. See how Jarrod advances with us!
How did you get started in the technology industry? What brought you to Extreme?
I got involved in technology sales at the encouragement of my uncle, who was working for a value-add technology distributor and told me about an opening at his company. I stayed there for a few years and it was great – I quickly climbed ranks and learned a lot. After a few years, a good friend of mine worked for Aerohive and told me how much he loved the company. I was ready for something new, so I gave it a shot and applied. It turned out to be the best decision of my life!
"Extreme made a wonderful acquisition when they acquired Aerohive and I couldn't be happier to be on this team. The opportunities I've received this past year have been great and our roadmap is so strong. The sky is the limit with the cloud."
What was it like to make a cross-country move for work?
I'm so glad I said yes to the opportunity – it has been phenomenal. At first, I was nervous, my wife and I didn't have any family or friends in Florida. When we discussed the opportunity, we talked about how it was going to be a big move and a big risk, but the potential reward was huge.
Even before COVID, we've been blessed with technology like FaceTime and Zoom so that we can keep in touch with family back home in California. It's not the same as being together in person, but our extended family is still able to see our two young sons grow virtually. 
What's your favorite memory at Extreme been so far?
Winning President's Club last month! With the acquisition and everything going on in the world, I'm so proud and humbled by the success I've had this past year. All of the hard work has paid off. After joining Extreme as part of an acquisition and being given the opportunities I've received, I wanted to prove myself, and achieving President's Club is the ultimate validation. My wife and I are excited to go on the trip to Italy – once it's safe to travel!
As a council member of Extreme's Diversity and Inclusion Committee at Extreme, what advice do you have for companies that want to empower and drive inclusion for a more diverse workforce?
First off, companies need to recognize what's going on and take an introspective look at themselves and their core values. Here at Extreme, we don't just talk about doing things, we act – we've built a council and launched initiatives to make everyone feel included. It starts from the top-down as well. We have amazing leaders at Extreme who have stepped up during this time to take a stand and show that they will not tolerate any forms of inequality in the workplace. I'm proud to be a part of team Extreme as the company continues to be an ally.
What are some fun facts about you?
I used to do musical theater. It was a huge passion of mine. I've probably done about 50 or 60 shows in my lifetime. It's actually how I met my wife; we were in The Wizard of Oz together! One day, I hope to participate in a musical with my wife and our two sons – it will be a family affair.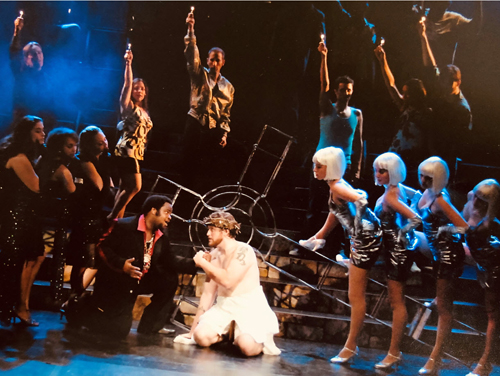 I'm also a huge foodie. My guilty pleasure is Mexican food, I love tacos and burritos. If you're having a bad day, my advice is to get a good taco. A good taco always turns things around for me.
Who inspires you and why?
My grandfather, Leonard Washington. He 85 years old, one of nine children, and the real patriarch of my family. He was a professor so he's very well-spoken, well-read, and he's been such a great mentor my entire life. When I'm faced with a decision, I always ask myself, "What would Poppy do," because he has seen so much in his life. The challenges he has had to overcome have translated into wisdom and insights that I appreciate dearly.  
Join Jarrod and the rest of the team!
Visit our careers page to explore opportunities in sales as well as the many other roles in which you can advance and help Extreme drive effortless networking experiences for enterprises worldwide.