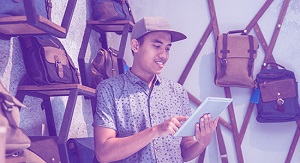 Black Friday, the near-panic shopping day after Thanksgiving, is almost here again. The day, whose name originated in Philadelphia during the mid-sixties, when traffic piled up on city streets after Thanksgiving, has evolved into a global retail shopageddon. As the start of the holiday shopping season, retailers offer great deals to attract more shoppers than during any other weekend of the year.
With the expected record peak of shoppers comes a high dependency on flawless store operation – this weekend more than ever! Every element of the store will be tested to the max, so preparation is critical, as is a safety net should anything fail. A key piece of the whole store environment is the wireless network. With the rise of mobility, that's where most devices are connected. And not just the store devices, such as barcode terminals and printers, but also more and more shoppers are using their smartphones while they shop. By offering things like in-store navigation through a loyalty app, tailored advertising and couponing, along with expert assistance, retailers are providing a better customer experience to buyers using their personal smartphones. A flawless wireless network is critical for all the aforementioned devices and applications – if your network is down, your store is down!
So what does all this mean? The key is that your wireless network must cope with the high demand for speed and capacity. And it must deliver the same performance – in terms of reliability and security – as a wired network. There's another aspect to this too. Many of the people I speak to in IT face the twin pressures of less time and less budget. So, wireless must be easy and cost-effective to deploy, monitor, and run.
Here are five important steps to ensure that your Wi-Fi networks will deliver the reliability and performance demanded by your users.
Wi-Fi as a Utility
In the eyes of users, Wi-Fi has become a utility – one we just expect to work. In the past, a lot of manual effort was required behind the scenes to ensure that users receive this performance. New management tools have now simplified installing, monitoring, managing and troubleshooting networks. Wi-Fi is becoming a true utility – requiring much reduced time from IT. Add in the faster speeds and easier installation of 802.11ac Wave 2 APs that meet the growing capacity demands of users, and Wi-Fi is ready to provide the core network foundation for your retail business for the busiest weekend of the year and for the foreseeable future.
Additional Resources